Finally, a gut supplement kit that may help prevent gas + bloating, improve nutrient breakdown + metabolism, and reduce stomach discomfort... all while improving digestive health + function!
Balances digestion and banishes bloating
Increases energy and vitality
Improves mental sharpness and focus
Promotes a healthy metabolism
Supports a healthy immune system
NOTE: 
These statements have not been evaluated by the Food and Drug Administration. This is not added to diagnose, treat, cure, or prevent any disease.
Our 3 Step Secret
Each packet contains a single Turmeric caplet, Probiotics caplet, and a Digestive Enzymes capsule. Take one packet twice daily with water, preferably at meal times, or as directed by a healthcare practitioner.
Step 1: Reduce Inflammation
Inflammation is at the center of all major illnesses within the body.
Revitalize uses the power of Curcumin, an active ingredient of turmeric, to combat pathogenic bacteria and support your gut health and soothe your inflammation.
Our ancestors have used turmeric to heal the body for thousands of years.
We're carrying on the tradition.
Step 2: Rebuild Digestive Enzymes
Enzymes are the proteins found in each living cell and help support areas such as digestion and nutrient absorption. That said, enzymes are crucial to maintaining a healthy gut.
Revitalize rebuilds digestive enzymes through the use of a multi-complex formulation that replenishes enzyme deficiencies within the gut.
Rebuild your way towards a better life with Revitalize.
Step 3: Rebalance Bacteria Levels
Bacteria levels can be the difference between a healthy and optimal, or a broken and debilitated gut.
Revitalize strengthens your gut by rebalancing your bacteria levels through the use of nearly two million gut-loving bacteria that support your gut flora and strengthen your immune system.
Life is all about balance. Literally.
Made with love in the usa • No colorants or synthetic fillers • Non-gmo • Gluten & allergen free • 100% plant-based • Research-backed • Inspired by ancient remedies from india •
Made with love in the usa • No colorants or synthetic fillers • Non-gmo • Gluten & allergen free • 100% plant-based • Research-backed • Inspired by ancient remedies from india •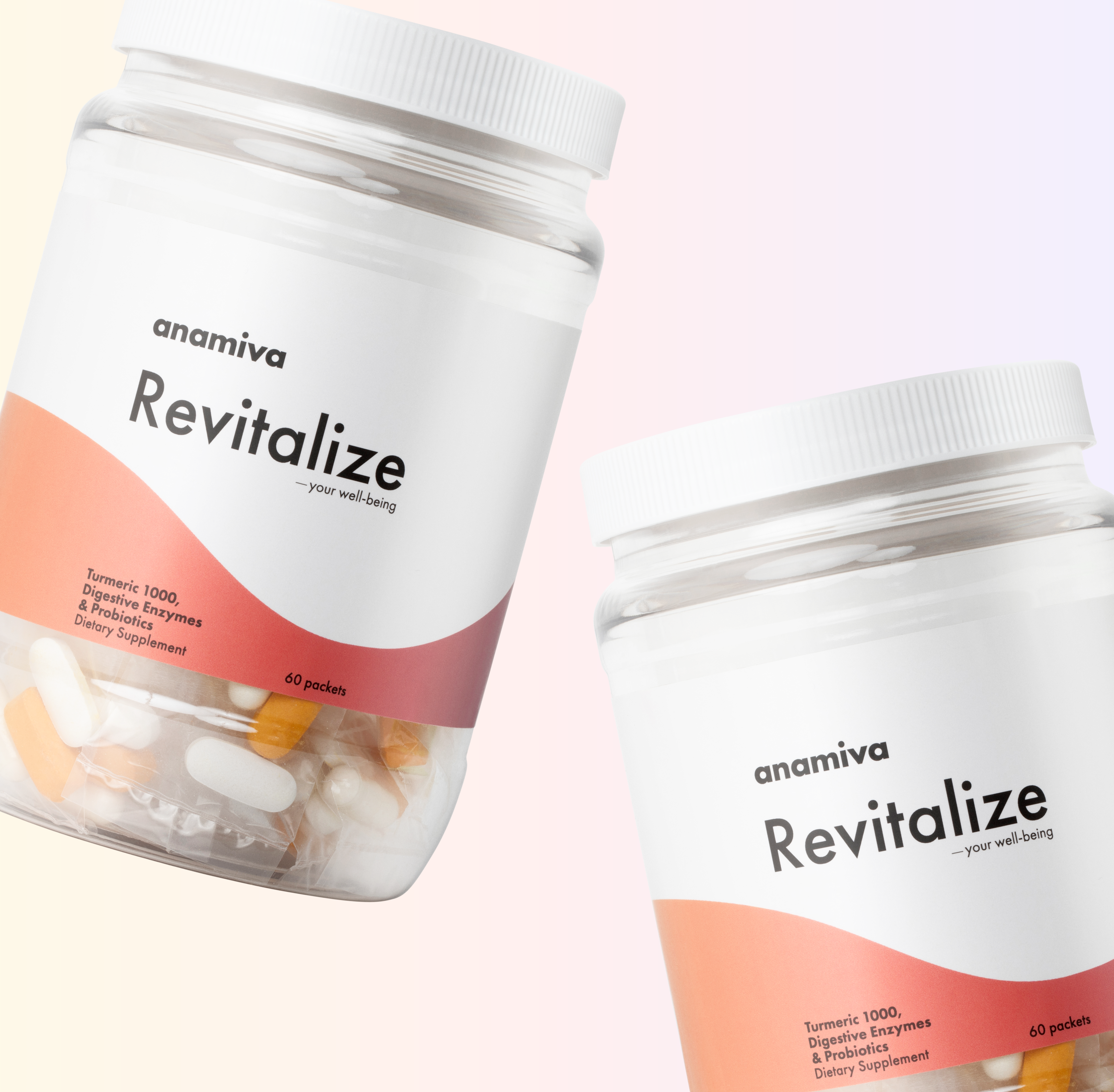 The Science
"Bacillus coagulans MTCC 5856 has been marketed as a dietary ingredient, but its efficacy in diarrhea predominant irritable bowel syndrome (IBS) condition has not been clinically elucidated till date. Thus, a double blind placebo controlled multi-centered trial was planned to evaluate the safety and efficacy of B. coagulans MTCC 5856 in diarrhea predominant IBS patients..."
View Research
"Curcuma longa L. (Zingiberaceae family) and its polyphenolic compound curcumin have been subjected to a variety of antimicrobial investigations due to extensive traditional uses and low side effects. Antimicrobial activities for curcumin and rhizome extract of C. longa against different bacteria, viruses, fungi, and parasites have been reported. The promising results..."
View Research
"Functional dyspepsia (FD) is a highly prevalent disorder having nonspecific symptoms and varied pathophysiology. Its treatment remains a challenge as therapeutic options are limited, unsatisfactory, and elusive. Thus, safety and efficacy of DigeZyme®, a proprietary multienzyme complex (MEC), was evaluated as a dietary supplement..."
View Research